My last show was a family fun fest. My aunt and uncle live in New Bedford, MA and are big fans of The Greater New Bedford Summerfest International Folk Music and Arts Festival. My Mom and Dad have come up from New Jersey for this in the past. So the fact that I was selling made it a family fun fest and one of the best support systems I've ever had at a show.
Here's mom selling at my booth (making her second appearance in this capacity on this blog):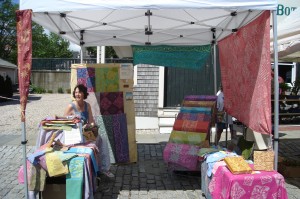 I'm still at the point where every show has a different set up. This show was my first with my pop-up shade tent, my goodbye gift to myself last year from REI. Titchadshi to me!