After a long and arduous search, I have landed in a shared studio space back in my old neighborhood, JP (that's Jamaica Plain for you non-Boston folks). It's an old barn just behind the Sam Adams Brewery.  With two floors, I mainly work downstairs, on the "dirty" level, as upstairs is more computer, video, hoola-hoop and sketching magic space.
Here I'm standing on the stairway landing, visioning the space:
I picked the back wall as my main work area, and developed a plan for a raise-able drying rack:
But I was moving in at the height of the "holiday season" and low on green baby onesies. So with some parts of my studio still in boxes, I improvised with my drying rack: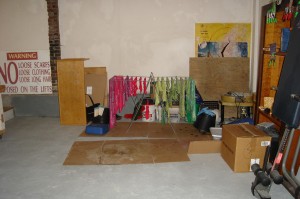 Finally I was ready to construct my raise-able drying line. In consultation with Chris Ortiz, Simon Camp, Doug Hull and a useless teenage boy employee at Home Depot, I started to build my design. Really, my "consultations" were my attempt to get them to tell me my pulley design would raise my drying line up evenly with only one rope.
          
          
Viola! It mostly works just the way I planned.
Up: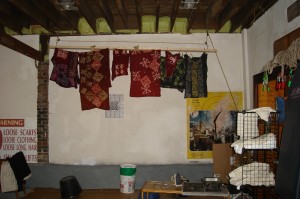 Down: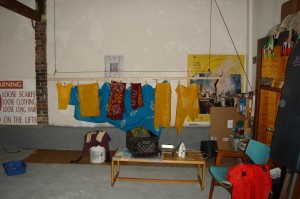 You're all invited to see the new studio on Sat. Jan 21st at our official "Studio Warming!"