My friend Mary recently brought me back batik stamps from Ghana. It's super exciting, and always fun to have new stamps to play with. Here's Mary showing off a few of them: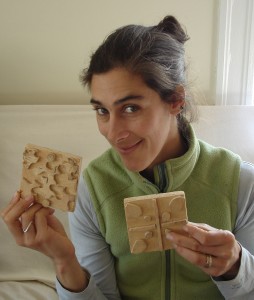 Titchadshi has no great English translation. My friend Melanie recently got a new tractor (She's a farm manager- it makes sense) and she's super excited. I tried to translate my Titchadshi blessing to her- "use it in good health" or "enjoy the newness" neither of which sounded so great. I settled on "drive your new tractor in good health." Here's her tractor:
Meanwhile, here's what Mary has to say about her African adventure:
"One of the best things about having a batik artist as a friend is that I get to bring back stamps from my travels. For one, it gives me a mission, an agenda, in whatever place I happen to be. AND, it's always fun to bring gifts to creative friends who I know will use my gifts for years to come.
This was my first time in Africa without a group of students. I had the flexibility to travel as I wished, and was able to go to the market in Ho myself and pick out the stamps. Ho is the political capital of the Volta region of Ghana. An hour and half tro-tro ride north, we were deposited on one of the main streets. The first shop we went to was closed and Mensa was visibly distressed at the thought that he had brought me there for nothing. No amount of reassuring would assuage his fears. The second shop we visited was a batik training center. There didn't appear to be much going on, but there were a lot of examples of their work on the walls and items for sale in the small shop in the front. It took a little bit of convincing the shop manager to bring out the stamps, but after some arm twisting, she brought some out. Some had handles, some didn't and they were clearly all hand made. I chose three. Mensa relaxed and we headed back to the bus stand to catch the tro-tro back to Kopeyia. Mensa: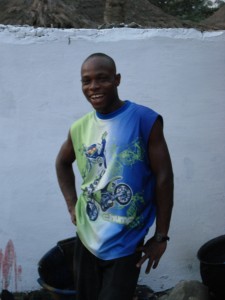 Another good friend of mine, Kobbi, has his hands in more creative pots than I can describe. He's a drum maker, puppet master, buys, makes and sells jewelry, and can procure any type of craft from anywhere in Ghana. I spent some time in his shop in Accra, the capital of Ghana, and spotted a pile of batik stamps he had recently made. Since I already had huge bags, I couldn't load up with too much more, but I also couldn't resist supporting my friend Kobbi and Leora's various crafts, so I bought one." Kobbi:
And here's my mark:
Titchadshi to me!