This week I mailed a package of 6 pieces (well, one of those pieces was a set of 4 napkins) to Snow Farm: the New England Craft Program in Williamsburg, MA. I got accepted to sell my work in their Seconds Sale- happening the last three weekends in November. These are all pieces I've had for about two years.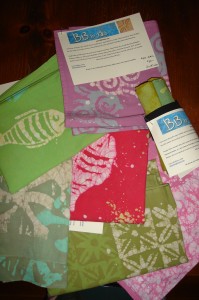 Here's how they describe the show:
Every year throughout November, we run an extensive sale of the work of leading crafts people from across the country. The staff at Snow Farm magically and amazingly transforms three professional art studios and our beautiful dining and common area into a retail space that is open to the public.
You can see pictures of the studios here: http://www.snowfarm.org/seconds-sale.html and it looks amazing!
So I made cute tags for all my pieces, and although they were a little bigger than I had hoped or intended, they came out pretty cute. The information includes care instructions as well as a super condensed version of my "about the artist page."
This opportunity meant I needed to create an inventory (but only of these 6 pieces, please). I identify my pieces by color (and stamp and size) which doesn't really work for others- especially if you don't know the difference between spring green and avocado. So I put a number to each of these pieces and a made spreadsheet of them all.

I've never been to Snow Farm- and they're selling my work for me, how crazy cool is that?
If you're passing through the Pioneer Valley during the last three weekends in November, support your local artisan and check out the sale at Snow Farm and let me know how my pieces look on display!